Apostolic Informer


The Apostolic Informer is a quarterly outlook of information for the Apostolic Church of Jesus, Inc., in our progress that will assist our Membership, Fellowship and Friendship Churches stay engage with information and activities concerning the National Church Policies, Procedures & Mandates of our Chief Apostle and Executive Board. The Apostolic Informer will help guide us in our stance for Apostolic Truth.
It will also keep us informed and up to date with current issues around the United States and the World. In addition, to information that affects the Church as a whole.
CHURCH QUATERLY ANNOUNCEMENTS
Praise God from whom all blessings flow. Praise Him, Father, Son, and Holy Ghost!

ACOJ Annual Deacon and Minister's Council
131 NE 9th Street
Pompano Beach, Florida 33060
November 29 – December 2, 2023.           
Theme: We are the Church Built on the Rock

Theme Scripture: Matthew 16:16-19, (KJV) 16 And Simon Peter answered and said, Thou art the Christ, the Son of the living God. 17 And Jesus answered and said unto him, Blessed art thou, Simon Barjona: for flesh and blood hath not revealed it unto thee, but my Father which is in heaven. 18 And I say also unto thee, That thou art Peter, and upon this rock I will build my church; and the gates of hell shall not prevail against it. 19 And I will give unto thee the keys of the kingdom of heaven: and whatsoever thou shalt bind on earth shall be bound in heaven: and whatsoever thou shalt loose on earth shall be loosed in heaven.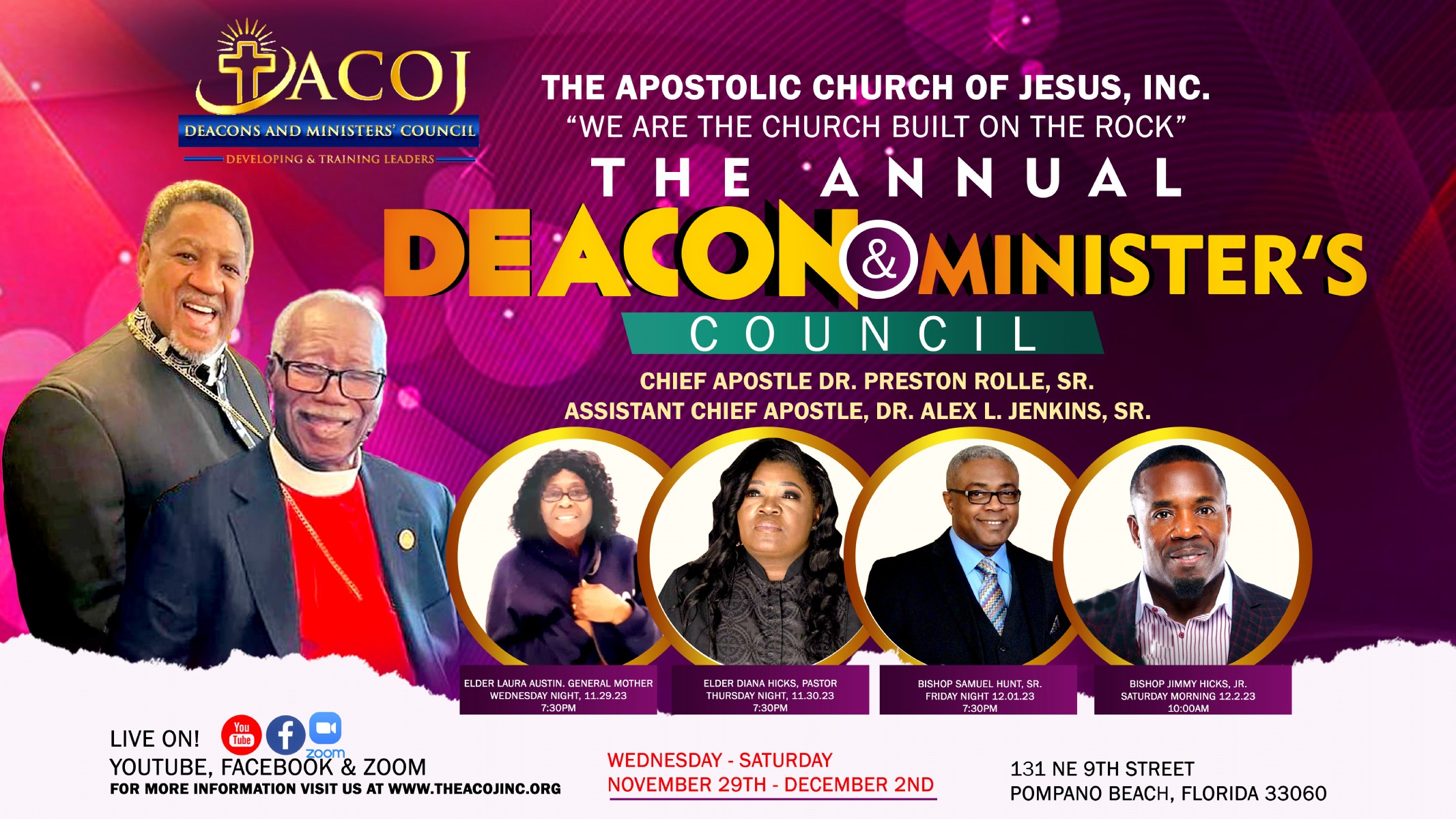 The Announcements are as follows: 
2023 Deacon & Minister's Council: Official Attire
2023 Deacon & Minister's Council: Financial Responsibility Letter
Join Us for the Annual Deacon and Minister's Council 2023! 
Prepare for an enriching experience with our dynamic speakers:
Elder Laura Austin - General Mother
• Wednesday Night, 11.29.23 @ 7:30 PM
Elder Diana Hicks - Pastor
• Thursday Night, 11.30.23 @ 7:30 PM
Bishop Samuel Hunt, Sr. - West Coast, Overseer
• Friday Night, 12.01.23 @ 7:30 PM
Bishop Jimmy Hicks, Jr. - East Coast, Overseer
• Saturday Morning, 12.2.23 @ 10:30 AM
In addition to these inspiring speakers, don't miss the Thursday Forum if you are an Elder or Deacon; and the the General Church Forum for all members with the Executive Board. Friday workshop will be facilitated by Apostle, Dr. Alex L. Jenkins, Sr. on behalf of our Chief Apostle, Dr. Preston Rolle, Sr.
Thursday Worshop:
Forum with the Elders at 10:00 AM (Zoom), the Deacons at 11:30 AM (Zoom) and the Open Forum with the Executive Board at 1:00 PM (Zoom)
Friday Workshop at 10:00AM: "Reacquainting with the Apostolic Church of Jesus, Inc." with Apostle, Dr. Alex L. Jenkins, Sr.
In the spirit of reconnection and renewal, we're hosting an immersive workshop. This will be an opportunity to deepen our faith, bond with fellow believers, and envision a future enriched by our shared heritage and united aspirations.
Mark your calendars and invite your friends and family to join us for these powerful sessions and transformative workshop!
This concludes our announcements for the Quarter! Thank you! 
Before you go. Please take the survey below!
#ACOJDeaconsAndMinistersCouncil
#DynamicSpeakers #SpiritualEnrichment 
#ApostolicChurchOfJesus #DeepeningFaith